Science
At Westleigh Methodist Primary school, we endeavour to provide a Science Curriculum that not only follows National Curriculum guidance, but develops innovative, forward thinking pupils who are curious about the world around them.
Within our teaching of Science, we ensure our children gain a greater understanding of the knowledge they develop in lessons by providing them with opportunities to explore scientific theories and processes linked to real world experiences. Through this, they begin to understand how Science can be applied by real Scientists and become exposed to potential future career paths.
Children frequently plan and carry out Science experiments which often lead to further investigations. When asked about the subject children say that they love Science because they feel like 'real scientists' during their lessons.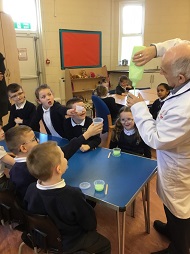 Statutory Guidance KS1 and KS2 Science Curriculum
KEY STAGE 1
Year 1
Plants (naming plants and trees, name basic parts of a plant)
Animals, including humans (identify and name common animals including fish, comparing animals, naming parts of the human body)
Everyday materials
Seasonal changes
Year 2
Living things and their habitats (comparing animate and inanimate objects, basic needs of animals and their habitats)
Plants (seeds and bulbs, requirements for plant growth)
Animals, including humans (human life cycle, basic needs of humans, exercise and health)
Use of everyday materials
KEY STAGE 2
Year 3
Plants (functions of a flowering plant, requirements for plant life and growth, plant life cycle)
Animals, including humans (nutrition, skeleton and muscles)
Rocks
Light
Forces and magnets
Year 4
Living things and their habitats (grouping and classifying, environment)
Animals, including humans (digestive system, teeth, food chains)
States of matter
Sound
Electricity
Year 5
Living things and their habitats (life cycles and life processes)
Animals, including humans (human changes)
Properties and changes of materials
Earth and space
Forces
Year 6
Animals, including humans (circulatory system, exercise and lifestyle)
Evolution and inheritance
Light
Electricity
Please find below our Science Curriculum Overview and Progression of Skills and Knowledge below: