Worship
A collective Act of Worship takes place each day. This is a special and important part of life at Westleigh. This act of worship enhances our faith and Methodist foundations along side the strong links we have with our local Churches.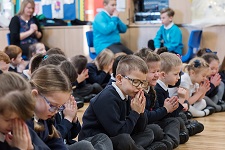 Our school prefects often take the lead with acts of worship as well as visitors.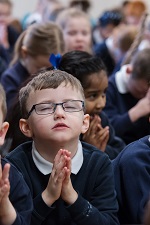 On Wednesday we complete our worship in class with 'Wellbeing Wednesdays', these are to focus on the healthy minds of our children and having a growth mindset. A celebratory worship takes place every Monday where we celebrate the achievements of our children in and out of school.
Each term we celebrate our faith through 'Messy Church'. This is an opportunity for the community of Westleigh to come together and celebrate along side the church. The children and families thoroughly enjoyed all of the activities that were available, from decorating biscuits to creating their very own Christmas decorations. We cannot wait for our next on in the Spring term.
The Words of John Wesley
'Do all the good you can,
By all the means you can,
In all the ways you can,
In all the places you can,
At all the times you can,
To all the people you can,
As long as ever you can.'